Copyright to Calamospondylus/DinoQueen13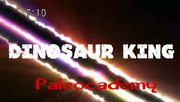 After Rex returns, he and the rest of the D-Team have headed off to a paleontologist-to-be academy, called Paleocademy. Soon, the trio learn that their teacher is, in fact, Reese! As Reese bores their heads off with her monotonic lectures, they decide to help Rex recapture the lost dinosaurs, which are rampaging across Earth! With the help of old and new friends, the D-Team will face off against their new enemies, the Night Stars, and save their home once again!
Paleocademy is a school founded by Kita Ieyasu and other unknown characters. However, the school has a very odd design and it is rumored to hold caged-up dinosaurs in there.
Characters
Edit
Protagonists
Edit
Delta Squad, Alpha Gang
Delta Squad: Max Taylor, Rex Owen, Zoe Drake, Sofia Plio, Keely, Katy Utah, Amaranth Koustopoulos; Amicagraphica Yamaichi, Kita Ieyasu, Seth Yamamoto
Alpha Gang: Dr. Z, Ursula, Zander, Ed, Rod, Laura, Helga, Alpha Droids
Others: Dr. Taylor, Aki Taylor, Reese Drake,
Antagonists
Edit
Night Stars, bullies
Night Stars: Jark (Spectre), Gunenco (Gavro), Zapper (Foolscap), Mihasa (Sheer), Esmeralda, Hyaline, Sharpshooter
Bullies: Setsuna
Anti-Hero
Edit
Major: Mikhail Stromenberg
There are different items used throughout Paleocademy.
Star Crystals
Edit
These are round crystals that the Delta Squad uses to summon move cards as extensions to their own bodies, not their dinosaurs. They were owned by Reya Drake, Zoe's cousin, before she gave them to the Delta Squad. Amicagraphica also has several, from an unknown source.
Dino Holders
Edit
Of course, the Dino Holders. Seth and Reese worked together to create an even better Dino Holder. It has a touch screen that allows the Delta Squad to:
Choose their dinosaur, which shoots out of their card holder
Choose their move card, which shoots out of their card holder
Activate the Element Boosters (the little decorations on the side, which spin over the the back and locks in, activating them)
Communicate with others (like a phone or a webcam)
Detect the activation of dinosaurs, new or old
Play games
Official Site
Edit
Ad blocker interference detected!
Wikia is a free-to-use site that makes money from advertising. We have a modified experience for viewers using ad blockers

Wikia is not accessible if you've made further modifications. Remove the custom ad blocker rule(s) and the page will load as expected.